BACKSTORY
In 2018, DCI installed modern locally crafted hardwood furniture at UCSD as part of their initiative to refurbish the storied John Muir College, a live learn community dedicated to nurturing and implementing green values and practices.
A few years ago we collaborated with UCSD on their Mesa Nueva Graduate Hall project. During that initiative, we developed three unique custom-designed items to flesh out the functionality of their brand new graduate studio apartments.
As a follow up, UCSD reached out to us recently to help them refresh the apartment living rooms in their John Muir Residence Hall.
John Muir College has a storied history as the live learn college for students committed to sustainability and environmental studies.
---
Sustainability at John Muir College
Named after the legendary conservationist John Muir, the College offers students a variety of ways to contribute to the sustainability mission of the school.
In his spirit, Muir College supports local, national, and global efforts to preserve the natural environment and to promote environmental sustainability in energy and water use, waste disposal, food production, and other practices. Since 2011, at the college's annual Earth Week Organic Lunch in April, we honor individuals whose work has contributed significantly to the cause of sustainability and environmental preservation by naming 2-3 Muir College Environmental Fellows.
In terms of sustainability education initiatives, they have many. For example, the College offers the Muir Writing Program, which focuses on issues relating to the environment and sustainability.
They host a freshman seminar called The Greening of Muir College where residents develop research projects to mitigate Muir's carbon footprint and enhance the college's green practices.
There's more including additional courses and an interdisciplinary environmental studies minor. The College also awards and recognizes students, teachers, and researchers who make outstanding sustainability contributions to the school.
And that's just John Muir College.
We've highlighted UCSD's commitment to sustainability in a previous case study, but recent developments are moving UCSD even further into the vanguard of green practices on campus.
---
Renovating John Muir College
It's always inspiring to work with schools who have a robust and engaged sustainability mission.
So it was against the backdrop of this panoramic sustainability commitment that we recently collaborated with UCSD on their John Muir College restoration initiative.
When UCSD reached out to us, the project was relatively straightforward and featured some basic sustainability attributes.
First, the school needed to upgrade the living rooms in the apartments at John Muir College. The design of the building is modern, so they were looking for modern furniture in keeping with the design context of the college.
The items included end tables, coffee tables, and tv stands.
They came prepared with a vision and some inspirations for their design, which they shared with us. We took those ideas and built them out to our custom dimensions and specs to make them durable enough for student use.
In terms of the sustainable pedigree of the furniture, it was crafted locally at our Chula Vista facility, which is a short 25- mile drive from the University, and our installation team was locally based as well.
At DCI, we pride ourselves on building our hardwood furniture here in the United States. All of our FSC-controlled hardwood is locally harvested close to our sawmill. We own the entire supply chain for our furniture which allows us to guarantee our products are crafted with an unmatched level of sustainability.
This vertical integration paired with our zero waste manufacturing and nontoxic materials places us in the vanguard of sustainable manufacturing in the residence hall furniture market.
There was another sustainability fun fact about the renovation at John Muir College.
In keeping with green spirit of the school, they took all the upholstered furniture from the College and had it reupholstered. Instead of sending it to the landfill and buying brand new furniture—the easier option to be sure—they completely refreshed the look of the existing furniture.
---
View Case Study (PDF)
---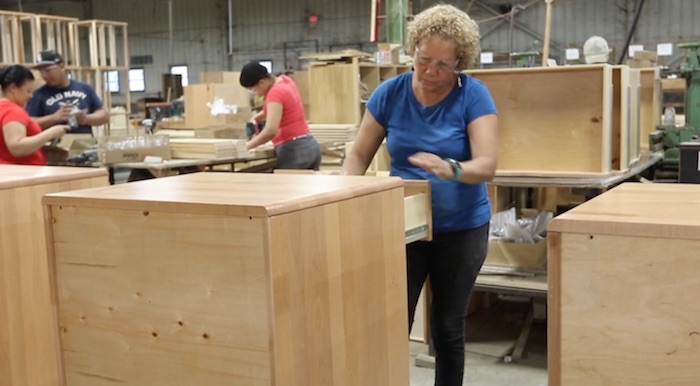 ---
Back to All Case Studies